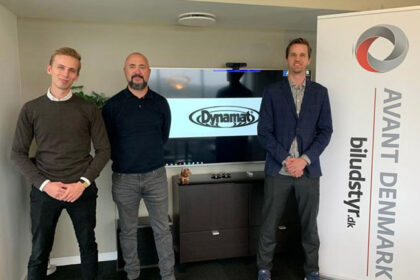 Celsus UK, European distributor for Dynamat noise and heat control materials, have chosen Avant Denmark A/S as representation in the Danish market.
The appointment will greatly strengthen Dynamat's presence in the Danish market ensuring that consumers can benefit from the world's best performing in-vehicle sound proofing and heat insulation materials. Dynamat is world renowned as setting the standard for damping materials in vehicles and the chosen products are high profile car restorers and car audio enthusiast alike.
"We are very happy to welcome Mads and his team at Avant to the Dynamat family. Their passion for their work, knowledge of the market and their impressive operation gives me confidence we will achieve great things as our relationship develops in the coming years" Said Mike Keenan, European Sales Manager for Celsus UK.
With over 30 years of successful installations Dynamat® Xtreme® is the perfectly balanced automotive sound damping material. These five key features– adhesion, thickness, effectiveness, ease of installation and American made – are designed to work together to create the perfectly balanced sound damping material which leads the way in performance.
Mads Lund Jakobsen, Customer & concept manager for Avant Denmark A/S adds:
"It is with great pleasure that Avant Denmark A/S adds the Dynamat range of market-leading sound isolation and noise/vibration reduction to our product portfolio. The brand will complement our high-end car hifi products from Alpine, JVC and Sony, strengthening Avant Denmark as the total supplier of high-end car audio solutions.
Dynamat will be sold through our varied multi-channel distribution network with a few specially selected brand stores in which the end-consumer can see, hear and feel the quality of the Dynamat products".
Commenting on the appointment Mike Good, President of Dynamat Inc said: "The Dynamat team and I are very excited to welcome Avant Denmark on board! We very much look forward to a long and successful partnership in the Danish market. At Dynamat we have an unapologetic focus on quality and making your vehicle a better vehicle, and it gives me great pleasure to know that Danish car enthusiasts can experience this through Avant A/S"
For further information: dynamateurope.com / biludstyr.dk
Pictured L-R: Thomas Schaarup – Purchaser, Avant A/S, Mike Keenan – European Sales Manager, Celsus UK, Lasse Thorbøll Juhl – Purchasing Manager, Avant A/S