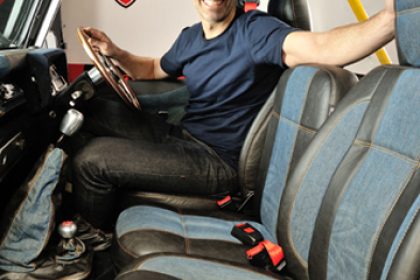 Celsus, the European distributor of JL Audio and Dynamat, has been approached by Ruskin Design Limited – specialists in bespoke handcrafted interiors for Land Rover Defenders – to assist in an unusual luxury refit for a customer's vehicle.
Wigston-based Ruskin Design Limited was commissioned by Land Rover enthusiast Colin Naylor to transform the interior of his Single Cab Defender 90 and create a bespoke interior incorporating 30 pairs of Diesel jeans, which were donated by Diesel London after hearing about the project.
To complete the contemporary feel, the company approached Celsus UK to fit the vehicle with a high-end JL Audio sound system, as well as Dynamat's industry-leading soundproofing technology.
The audio upgrade consisted of JL Audio's C3 speakers in the front and rear, combined with the best-selling 8" inch loaded enclosure, all run from a 5 channel 700W XD amplifier. Each item was discreetly installed so as not to deter from the factory feel.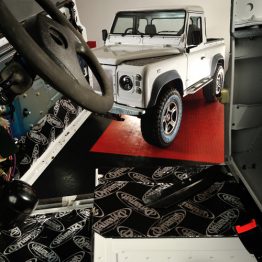 The Defender was also treated with Dynamat Xtreme sound damping to stop unwanted vibration and resonance around the audio speakers, allowing Colin to appreciate his new sound system in comfort. The upgrades were installed by Celsus' technician during the build, tuning the system throughout the process to ensure that it matched the high-end nature of the project.
Commenting on the project, Marketing Director, Mark Baker, said: "The contemporary nature of this transformation is the perfect fit for the JL Audio and Dynamat products installed in the vehicle.
The clarity of the JL Audio sound system when combined with the effectiveness of Dynamat's soundproofing technology will allow Colin to enjoy his music exactly as it supposed to be heard."
Paul Hames, Chief Designer, Ruskin Design Limited said: "We knew that we needed a pretty special system to complement the contemporary design of this iconic project. Celsus Ice understood exactly what we were trying to achieve and offered the perfect products to ensure our client's expectations, and indeed our own, were met – I think we have exceeded those expectations and produced a truly outstanding vehicle."
For further information on Ruskin Design Limited visit www.ruskindesign.co.uk