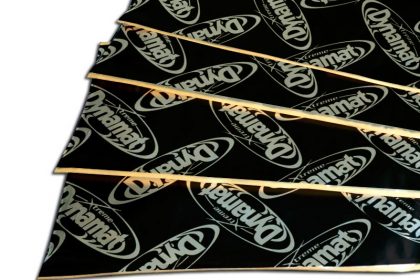 Celsus, the European distributor of Dynamat, is offering TKC Mag's readership the chance to get its hands on an exclusive Dynamat prize, worth over £400.
The giveaway will commence from 29 April to coincide with the on-sale date of the May/June issue.
The lucky winner will receive two Dynamat Xtreme Bulk packs – enough Dynamat to dramatically reduce road noise, covering the doors and side panels – worth nearly £400. In addition to this, there's also a pack of Dynaliner 1/8", which provides high acoustic absorption and excellent thermal insulation for roof, firewall, floor, quarter panels and doors.
The promotion will give the magazine's lucky readers the chance to experience Dynamat's sound deadening capabilities. Designed with a special chemical formulation, Dynamat Xtreme is just 1.7mm thick and absorbs road noise by up to 80% as well as engine noise and annoying panel rattles.
To enter, readers simply need to pick up a copy of the magazine on sale on 29 April, answer a simple question, and return their entry to the address provided. The competition closes 30 June, and winners will be announced shortly afterwards.
James Onions | james.onions@thinmarketing.co.uk