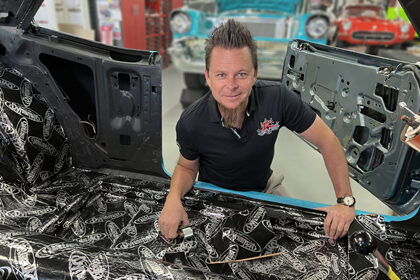 Dynamat, Inc., recognized as a global leader in addressing unwanted sound and heat, is excited to partner with Kindig-It Design and Dave Kindig, the star of Motor Trend TV's "Bitchin' Rides".
Kindig offers start-to-finish builds for custom vehicles – known as RestoMods – that are unlike anything on the road today. With an extensive waitlist, his services are in high demand.
"We're really excited about this partnership, everyone knows the Dynamat name – they are the verb in the industry, and deservedly so. They created the market and paved the way for the sound deadening industry, going back over 30 years. Dynamat is known for delivering the highest quality products which aligns with the same vision that we have, here at Kindig-It Design." Kindig founded and operates Kindig-It Design, the nation's premier custom vehicle fabrication company. Since 1999, Kindig-It Design has been the leading name in creating one-of-a-kind custom rides. In 2014, he helped launch "Bitchin' Rides" on MotorTrend TV, a series that is still going strong in its ninth season. The show spotlights the one-of-a-kind rides Dave and his team produce and is seen in more than 169 nations worldwide.
"This is an incredible opportunity for two industry-leading brands," says Michael Good, Dynamat's CEO. "Dynamat and Kindig-It Design are both founded on innovation and unsurpassed quality while continually working to bring new ideas to the marketplace. Dynamat is solving a problem and Kindig-It Design is bringing dreams to reality. It's a natural fit as our products compliment the rolling works-of-art that Dave and his team are building."
About Dynamat, Inc.
Dynamat, Inc. is a privately held corporation located in Hamilton, Ohio, USA. Established in 1989, the company markets acoustic solutions for a broad range of industries. The Dynamat brand is recognized by consumers around the world as quality products for solutions to unwanted heat, noise and vibration.
The Dynamat brand maintains the dominant market share in Car Audio and Automotive Restoration acoustic solutions. Dynamat, Inc. also provides a broad range of unique product solutions for home acoustics, marine & R/V, and for Original Equipment Manufacturers.
For more information, go to dynamat.com.
About Kindig-It Design
Kindig-It Design is a premier all-aspects Hot Rod shop utilizing the newest advancements in custom fabrication technology. A family-owned and operated company since 1999, Kindig-it Design is constantly growing and looking to add more skilled artists of their creed to create some "Bitchin Rides".
Dave Kindig's concepts and vision are the foundation of rides which are built, improved, and modernized to reflect the best version those vehicles can be. The Kindig-It team uses state-of-the-art equipment to ensure the highest quality, attention to detail, and customer satisfaction throughout the entire design and build experience.
For more information, go to kindigit.com.