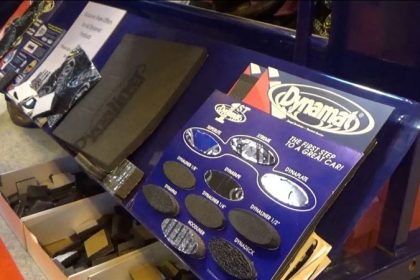 Celsus, the European distributor of Dynamat, has brought the power of the Dynamat product range to life with an educational video explaining why the manufacturer remains the European industry leader in automotive sound dampening.
Filmed at the Classic Car Show at the NEC Birmingham in November, the location provided the perfect context for the product range, as Dynamat's Director of Business Development, Chris Bennett, walked the viewer through the company's interactive presence at the event, which featured product samples and 'wow factor' demonstrations.
The Dynamat Xtreme sound deadening demos proved a talking point for attendees, who discovered the Dynamat difference for themselves after hitting drum symbols treated with the product.
Dynamat Original launched in 1989 to reduce noise from automotive structural vibration. Its thin, flexible, easy-mould sheet used a revolutionary extensional damper technique to convert vibration into silent energy. Since then, Dynamat has been installed into millions of cars, including every car restored at Ian Webb Specialist Cars.
Talking at the Classic Car Show, Ian Webb said: "We fit it to every car that we sell, we take the carpet off and we fit the product."
The Dynaliner thermal barrier solutions were also 'made simple' by Chris Bennett, who explained where a foot of fibreglass insulation in homes could provide up to a 30°F reduction in heat transfer, just half an inch of Dynaliner combined with Dynamat Xtreme saves 100°F in thermal transfer.
Watch the video here
James Onions | james.onions@thinmarketing.co.uk