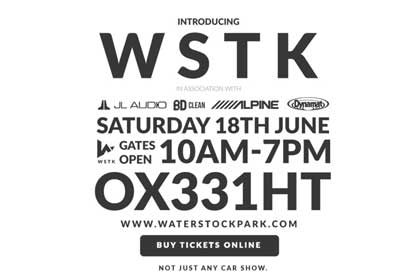 Dynamat and JL Audio, today announced its sponsorship agreement of the UK's first ever Waterstock Show, taking place on 18 June at Waterstock Golf Club, Oxford.
As part of Celsus' extensive programme of events throughout 2016, the Waterstock Show provides the perfect opportunity for people to interact with the Dynamat and JL Audio product ranges in person.
The event looks set to be a lively family day out, with club stands featuring a broad selection of German vehicles, Hot Rods, JDM, Drags, Classics and Supercars. Live DJ sets throughout the day will keep the atmosphere fully charged, and trade stalls will boast an array of amazing automotive bargains. There are even tattooists and body piercers on site for those especially daring visitors!
"Being a petrol head and hearing the names JL Audio and Dynamat everywhere growing up, it was an honor and a privilege when we heard that these two huge car brands wanted to get involved in our show," said Waterstock's Smuj Singh.
"As brand leaders in their field it has opened many doors for us and cemented relations with lots of well-known car clubs throughout the area. We are now recognized as being the main car event in Oxford, and all of this has happened in such a short time with the support of Celsus."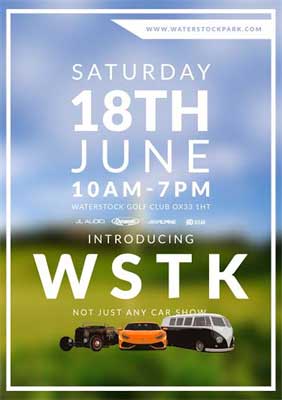 The event is supported by SoScene magazine, a brand-new, free publication for German car enthusiasts who are looking for more than just the latest news and product reviews. SoScene covers a blend of modern classics, new wave car shows and old school racers. The team will be all over the show on the day, taking photos and talking to people – keep an eye out for coverage in future issues.
Commenting on the sponsorship, Mark Baker, Marketing Director of Celsus UK, said: "We think that the Waterstock and SoScene teams have a brilliant concept on their hands with this event. They're working incredibly hard to promote the UK's aftermarket and car audio scenes, and we're delighted to be associated with this kind of innovation. Building recognition for events like this is key to driving the market forward."
Doors open on the 18 June at 10am, and advance tickets cost £10 for adults (£15 OTD) and £5 for teens aged between 10 and 16. Under 10s enter for free. For further information, visit http://www.waterstockpark.com/.