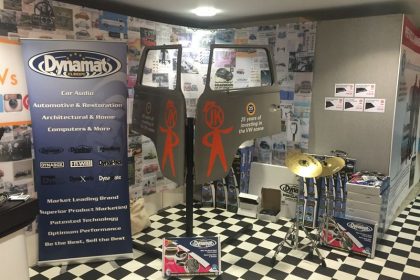 Celsus, the European distributor of Dynamat, is all set to make 2016's hectic national show programme its best yet, with 15 prestigious events still to go before the end of the year.
Having already kicked the schedule off with events such as the Practical Classics Show at the NEC, and Volksworld at Sandown Park, the Dynamat range will be taken on tour across the UK. The stands will feature product samples and 'wow factor' demonstrations which help to explain why the manufacturer remains the European industry leader in automotive sound deadening.
The Dynamat Xtreme sound deadening demos proved a real talking point at past events, allowing attendees to discover the Dynamat difference for themselves after hitting drum symbols treated with the product.
The forthcoming schedule will include well-known industry events such as Camper Jam, Goodwood Bus Fest and the Classic Car Show.
"We relish these opportunities to allow people to interact with the Dynamat brand and ask us any questions that they might have", said Paul Baker, Managing Director of Celsus UK.
"Nothing beats a 'hands-on' demonstration of the products, as they really drive home just how effective the technology involved is."
Dynamat will next be appearing at Vanwest in Somerset from 6-8 May, and Beaulieu Spring Autojumble at the National Motor Museum, near Southampton, from 4-5 June.
James Onions | james.onions@thinmarketing.co.uk